No 4. Aegis Combat System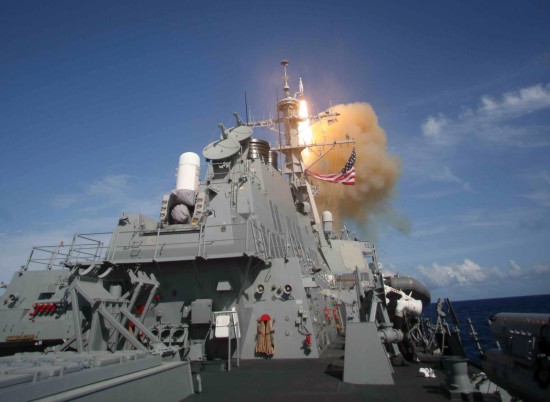 The Aegis Combat System is an integrated naval weapons system developed by the Missile and Surface Radar Division of RCA, and now produced by Lockheed Martin. It uses powerful computers and radars to track and guide weapons to destroy enemy targets. Countries other than US currently operating the Aegis system include Japan, Spain, Norway and Korea. The Royal Australian Navy has selected the Aegis system for placement on its new Air Warfare Destroyers. Over 100 Aegis-equipped ships have been deployed in five navies worldwide. The Aegis Combat System (ACS) is an advanced command & control and Weapon Control System (WCS) that uses powerful computers and radars to track and guide weapons to destroy enemy targets. AWS, the heart of Aegis, comprises the AN/SPY-1 Radar, MK 99 Fire Control System, WCS, the Command and Decision Suite, and SM-2 Standard Missile systems. The Aegis Combat System is controlled by an advanced, automatic detect-and-track, multi-function three-dimensional passive electronically scanned array radar, the AN/SPY-1. Known as "the Shield of the Fleet", the SPY high-powered (6 megawatt) radar is able to perform search, tracking, and missile guidance functions simultaneously with a track capacity of well over 100 targets at more than 100 nautical miles (190 km). However the AN/SPY-1 Radar is mounted lower than the AN/SPS-49 radar system and so has a reduced radar horizon.
[youtube]http://www.youtube.com/watch?v=FL-HecSCjg0[/youtube]
No 3. Arrow System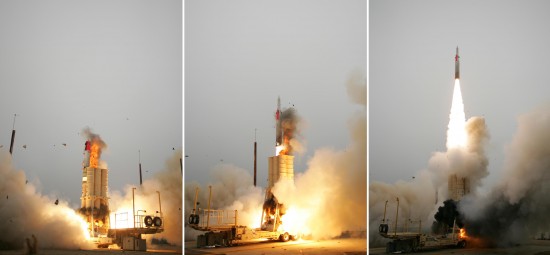 The Arrow is a family of anti-ballistic missiles designed to fulfill an Israeli requirement for a theater missile defense system that would be more effective against ballistic missiles than the MIM-104 Patriot surface-to-air missile. Jointly funded and produced by Israel and the United States, development of the system began in 1986 and has continued since, drawing some contested criticism. Developed by the Israel Aerospace Industries the project is jointly supervised by Israel's Ministry of Defense and US Missile Defense Agency. The Arrow system consists of the joint production hypersonic Arrow anti-missile interceptor, the Elta EL/M-2080 "Green Pine" early-warning AESA radar, the Tadiran Telecom "Golden Citron" C3I center, and the Israel Aerospace Industries launch control center. The system is transportable, as it can be moved to other prepared sites. The first Arrow battery was declared fully operational in October 2000. Although several of its components have been exported, the Israeli Air Defense Network within the Israeli Air Force (IAF) of the Israel Defense Forces (IDF) is currently the sole user of the complete Arrow system. The Arrow is considered to be one of the most lethal operational ATBM system with lightening fast reaction time.
[youtube]http://www.youtube.com/watch?v=94eF5z55ydg[/youtube]