The Best Google Play Apps of 2017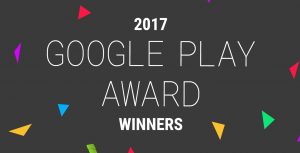 The  Google Play Apps Winners
Nest TV Experience: RedBull TV
This app offers videos of the popular RedBull extreme challenges with an interface that allows for a richer viewing experience, plus it´s free.
Best AR Experience: Woorld
Last year the world learned the capabilities of augmented reality with Pokemon Go. This year is Woorlds turn. This app allows users to transform their surroundings with games and playful characters.
Best VR Experience: Virtual Virtual Experience
VVR is a satirical game that makes fun of virtual reality while at the same time embracing it.
Best Android Wear Experience: Runtastic Runin and Fitness
This app helps runners quantify their personal records and improve them.
Best App: Memrise
This free app is made to teach you languages as you playing through missions.