Samsung's New 'Safety Trucks' Line Brings See Through Trucks To Make Roads Safer
Statistics show that in Argentina, nearly one person dies in a car crash every hour and in some of these cases trucks are involved. Samsung is however looking to put a change to this with hopes to successfully implement a new technology that you bet will save the lives of drivers who look to overtake semi-trailer trucks on single-lane roads when they get impatient of being stuck behind them. The Korean company's new line called the 'Safety Trucks', aims to reduce the high number of traffic accidents that occur on one-lane roads when overtaking in Argentina.
The new line of trucks will make use of cameras, wireless video and huge display screens to allow drivers to see what is coming down the pike towards them, without having to pull out into the way of incoming traffic to check out for yourself.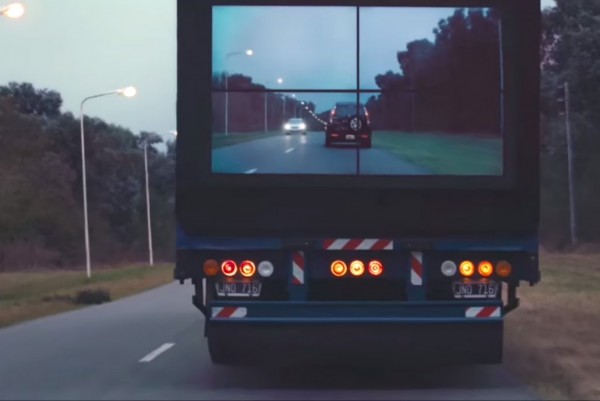 At the front of the safety trucks, wireless cameras will be installed to capture everything that happens on the road ahead. The video captured will then be broadcast to a large display screen that is made up of four video monitors which are located on the back of the truck. According to the company, the monitors will "give drivers behind the truck a view of what is going on ahead, even in the dark of night."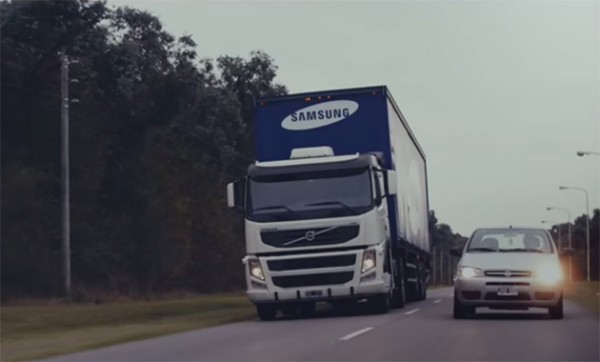 The prototype of the truck was tested with a business-to-business client, and it was confirmed that the technology works to save lives and it is now no longer operational.
"The next step is to perform the corresponding tests in order to comply with the existing national protocols and obtain the necessary permits and approvals," the firm said. "For this, Samsung is working together with safe driving NGOs and the government."