Chip Show Owner Leaves Hilarious Note For Customers On Store's Window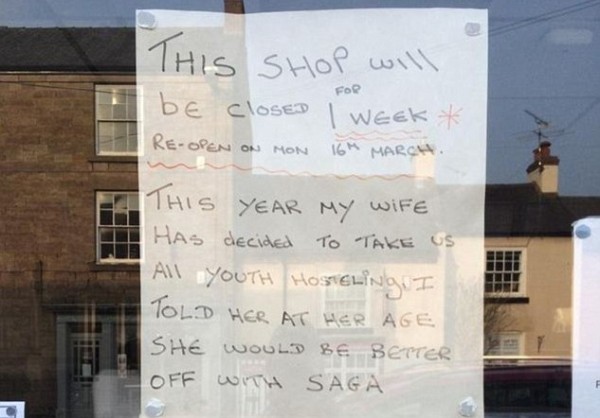 A chip shop owner's hilarious note that he left for his customers to inform them that he is going on a holiday with his wife, has gone viral. The letter which was taken to the net by Twitter user PlattsiePlatts was captioned, "so this is the notice I saw today in the window of our local fish and chip shop. I kid thee not."
The note, which was in the window of an undisclosed chippy in London summed the unnamed owner's botheration to have to go youth hosteling with his family.
In black marker he writes: "This shop will be closed for 1 week. Re-open on the 16th of March. This year my wife has decided to take us all youth hosteling. I told her at her age she would be better off with saga."
"We are taking two of our children. 1 daughter in law, plus one grandson. No internet, mobile phones, playstations etc. Personally I think we will all be bored to tears. She who must be obeyed says we will have a great time telling tales round the campfire etc."
The note was ended by saying, "I would rather be here with beer + TV. Can't wait to be home to see you soon. Sorry for any inconvenience."
The entire note was written on two A4 pieces of paper glued together in a portait format and pasted on the window. While the image was posted around a month ago, the tweet only began to circulate since this week.
Check out the image of the note below.