Chinese Firm Builds The World's Tallest 3D Printed Building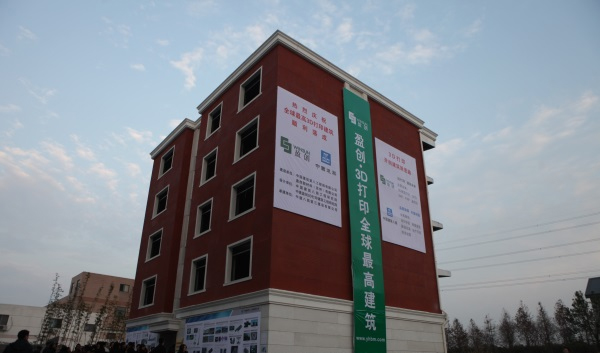 After taking nearly 12 years and a US$2.3 million investment to manufacture, a Chinese engineering and design firm, WinSun Decoration Design Engineering, has unveiled the world's tallest 3D printed building. The five-storey residential apartment block made from recycled construction material was constructed using the company's custom built 3D printer that measures 6.6 metres tall, 10 metres wide and about 150 metres long.
The mixture of the 3D printer 'ink' includes fibreglass, steel, cement, hardening agents, and recycled construction materials. In order to create a 3D structure, it prints layer on top of layer. Selected sections of the structure is first made in a prefabricated home fashion, and then they are transported and assembled to the rest of the body on site.
The company stated on their website that the 3D-printed walls are approximately 50 percent lighter than concrete walls, but have "much higher strength and toughness". In addition to this, they won't crack, have strong water-proofing, as well as better air permeability and heat retention.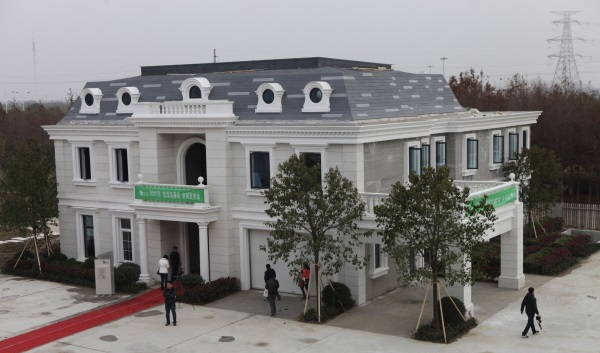 Aside from the five-storey apartment block which achieved the title of the world's tallest 3D printed building, they also showcased a 1,100-square-metre 3D-printed mansion, which cost an estimated US$160,000. A price that you won't find being offered for mansions these days.
"These two houses are in full compliance with the relevant national standards. It is safe, reliable, and features a good integration of architecture and decoration. But as there is no specific national standard for 3D printing architecture, we need to revise and improve such a standard for the future," the Chief Engineer of China Construction No.8 Engineering Bureau, Ma Rongquan said.
Previous 3D printed works done by WinSun also include 10 single-story homes that were built in April 2014 in less than 24 hours and cost less than $5,000 per building.