Tourists Experience Chicago Skydeck Scare As Glass Cracks Unexpectedly.
It was a "cracking" moment at the Chicago Skydeck which left California tourists thanking the heavens for their luck. In what seemed like another normal day at the facility, several individuals whom made the trip all the way from California saw the glass floor beginning to crack beneath their feet after stepping on the surface.
Alejandro Garibay and his family were sight-seeing at Chicago's Wills Tower when its Skydeck which was opened in 2009 on the 103rd floor, about 1353 feet above Chicago's down-town began to crack right after they stepped on the surface.
It is reported that just minutes before stepping on the glass, Garibay and his family were joking with Willis Tower staff members about the safety and durability of the structure.
"They jokingly and confidently responded, 'It's unbreakable,' so we just went on," Garibay told the NBC affiliate station in Chicago. During the tour of the Skydeck, Garibay and his family heard a 'cracking' sound and signalled to staff members whom promptly escorted them from the vicinity.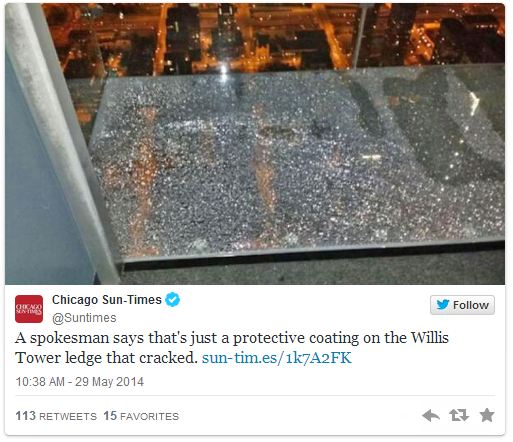 "When we pulled our phones to start recording and take pictures they asked us to leave right away," Garibay said. A PR Representative of Willis Tower told the Chicago Sun-Times that it was the protective coating that cracked. "Occasionally this happens, but that's because we designed it this way," he said. "Whatever happened last night is a result of the protective coating doing what it's designed to."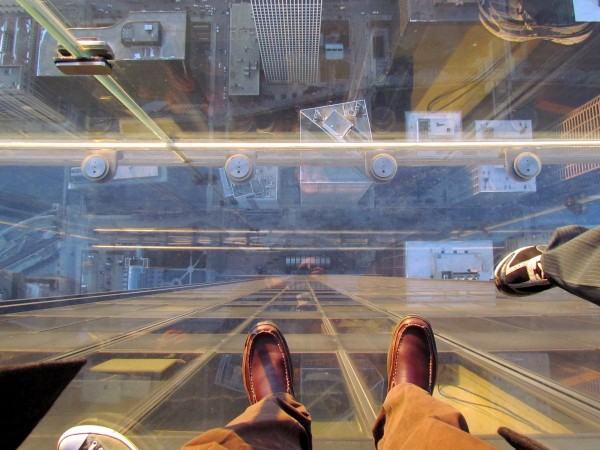 The Skydeck was built to provide panoramic views of the city, however, there will be critics out there that believe that this could have turned out a lot worse. One thing is certain, it may be wise to simply avoid walking on glass floors altogether.