Let Me Upgrade You! Mario Kart 8 Features A Tricked Out Mercedes Benz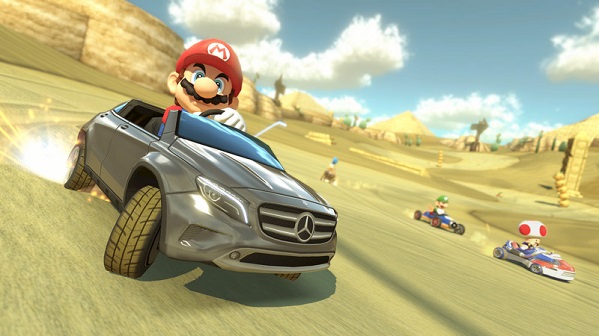 After all the walking, hopping, Yoshi bouncing and miniature go kart crashing Mario finally decided to take his life seriously. The red hat hero appeared to have to have traded his coins, Yoshi or Princess Peach for his new Vehicle. According to Joystiq, Mario Kart 8 will feature a Mercedes Benz GLA when it is released this summer. Rumours are abound with an impending GLA tournament also thrown into the mix. The enigmatic partnership between Mercedes Benz and Nintendo has resulted in the appearance of the classiest transport to grace the wacky and erroneous streets of  the Mario Kart series.
Some gamers may feel hard done by such claims with Bowser's mini-airship the favourite among may.  The Benz introduction is still pretty cool and is especially ideal for Mario. At least now we don't have to wonder what he has been doing will all those coins for the past 30 years. So, what do you have to do to unlock it? Absolutely nothing! At least that is the word circulating in the gaming industry. It will be available at the start of the game.
"The announcement was made by Mercedes-Benz Japan regarding their collaboration in Japan with Nintendo Co. Limited," a Nintendo representative told Joystiq. "As for the information relating to the distribution of the GLA kart for Mario Kart 8 outside Japan, we will be able to announce in the near future."
Well now we know there is no definitive date as to when the Mercedes Benz GLA will be available to the rest of the world. In the mean time we have this quirky commercial to keep us occupied.
http://www.youtube.com/watch?v=x6FmIKSqTKo&w=560&h=315