This contortionist is so flexy it hurts just to look at what she can do
Russian-born Zlata, 27, can contort herself into the most extreme poses imaginable and has posed for 12 wonderfully weird shots for each month of the year.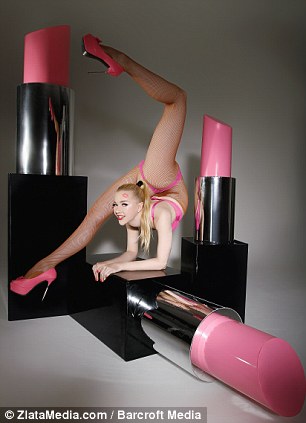 The former gymnast, who is 5ft 8in, makes every shot an opportunity to show off her suppleness.
Scroll down for video
Zlata, whose real name is Julia Gunthel, is so flexible she can cram herself into a 50cm squared box. She said she was just four-years-old when she discovered her talent and has been bending over backwards ever since.
In 2011 she won a Guinness World record for the fastest time to burst three balloons with her back which she did in just 12-seconds.
According to the blonde she spends most of her day working out and training for shows around the world.