Apple Pays $21Million For The Swiss Clock Face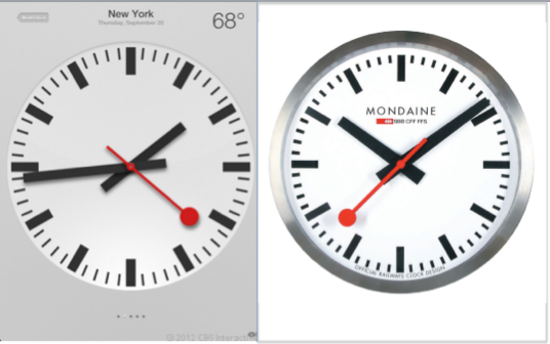 Whoa! $21 Million for a watch! Seriously? Swiss federal railway (SBB) got unhappy by Apple's clock-face design in iOS 6. So they claimed that the clock looked similar to there own famous design, The design which has been used in train station clocks throughout Switzerland. The design was also honored by the Museum of Modern Art (New York) and London Design Museum (London).
The design was basically created by Hans Hilfiker (an SBB employee) in 1944 and its a sign of prestige and honor for the company. Henceforth, Apple had to pay a huge sum against the claim to have their rights over the design. Previously Only Mondaine, a Swiss watch manufacturer had that rights, but now after the payment of $21 Million Apple can enjoy the same rights over the Swiss clock Face. So enjoy the $21 Million clock on your iOS 6!