Guy Creates A Lamborghini Reventon From Scrap
Interesting news here today. Wang Jian, a 28 year old Chinese farmer made his own Lamborghini Reventon from mere scrap metal. The rare Italian luxurious Reventon  is with very few peoples in the world due to its high cost. Like many car lovers, Lamborghini Reventon was Wang Jian's dream too. The poor farmer could never afford the real car. So unlike others he didn't give up his dream and instead he started making it a reality in his own way.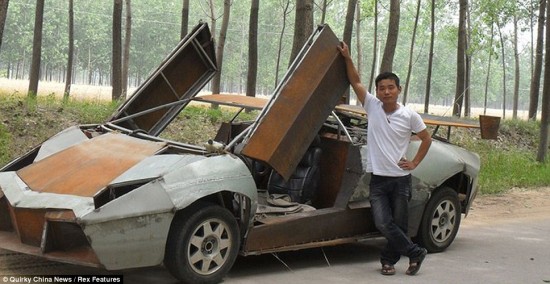 Wang was not only a farmer but also a skilled mechanic, he worked in workshops for many years. So he had good knowledge about parts and designs of car. The ambitious man took the decision of making his wild dream into reality, so he bought an old Volkswagen, and a small Reventon model car to use as reference.
He started building his dream, installed Volkswagen's engine in it, gave it a frugal interior but didn't paint the car. As Chinese police was not granting a license for this home made Reventon. So instead of showing it on the streets, he started to use it as a transport of fertilizer for his fields. This home made Lamborghini costed his $9500.