iPhone Caught Fire in Guy's Pocket Caught on Camera
As shocking as the title sounds, this would be the worst day of Henri Helminen's life. A 17 year old teenager was on his way to work on a fine day, when suddenly iPhone resting in his pocket started smoking. The device started burning apparently, so he took it out and threw it on the ground before it could cause him any injury.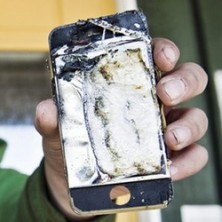 According to Henri the device was just 3 months old and it was functioning perfectly. There was no issue with the device before this incident. The incident might be caused by the phone's battery, causing other parts to heat up and burn. Apple has not issued any official statement on the incident.
A nearby CCTV camera caught the whole incident.