"Kingdom Tower" Would Be The Next World's Tallest Building
Burj Khalifa stands as the World's tallest building with an unimaginable height of 828 meters. But the Kingdom Tower will take the title soon with the height of 1000 meters. The tower is being constructed along the Red Sea in Jeddah, Saudi Arabia. The person to construct the next wonder is none other than Prince Al-Waleed bin Talal, the wealthiest Arab of Middle East. He is also the CEO of Kingdom Holding Company (KHC). According to news, the new Kingdom city will be located along the Red Sea on the north side of Jeddah, and to construct it, the Kingdom Tower is the first phase. The whole project would be summing up a net cost of around 20 Billion US Dollars. Among which the 1.2 Billion Dollar would be spent on Tower.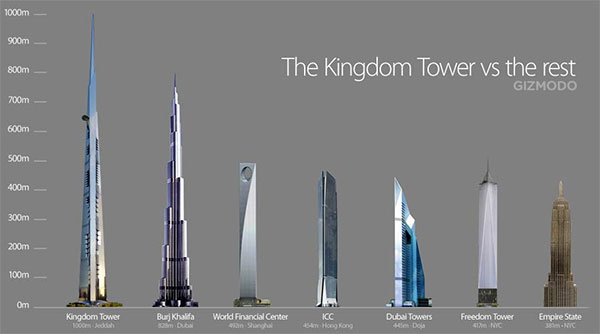 The aim of the Kingdom Tower will be to accommodate a Four Seasons Hotel with Four Seasons service apartments and first class office spaces along with the worlds best luxurious apartment sets. The tower will also be having the world's highest observatory. Talking about the design of the Kingdom tower, it is being processed by Adrian Smith, the same architect who designed Burj Khalifa as well. As far as the due date of tower is concerned, at 2 August 2011 when the contract along with construction started, it was informed that the tower would take 5 years and 3 month to get completed.The design of the tower was explained to have a triangular footprint and sloped exteriors to have minimal wind affects.