iPhone 4S Now Is The Second-Most Popular Camera Phone On Flickr
In almost no time iPhone 4S has reached the second spot in the most popular camera phone on Flikr, first spot belonged to iPhone 4.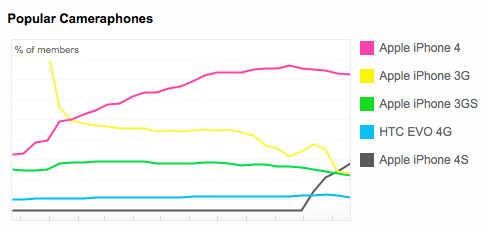 To reach the second spot, iPhone 4S had to beat its older siblings the iPhone 3G and iPhone 3GS, as well as the HTC EVO 4G, the only Android phone in the top five. Although, the gap between iPhone 4S and iPhone 4 is considerable, it is expected to squeeze big time in days to come.
iPhone 4S has been a source of pleasure for many amateur photographers since it features an upgrade to 8-megapixels, a face detection feature, high-end infrared filter, and full HD 1080p video recording capabilities with image stabilization.  But the story does not end here, many professionals have also said words in praise of the moments capturing capabilities of iPhone 4S, Annie Liebovitz, a famous photographer, recently named iPhone 4S as the "snapshot camera of today."