Different Thunderbolt Chip Spotted In MacBook Airs
The Thunderbolt ports have joined the Apple's Thunderbolt-equipped club earlier this month as they were found on the latest MacBook Airs.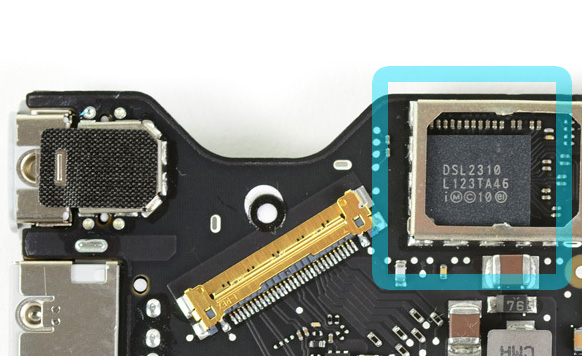 According to reports, the Thunderbolt controller found on the MacBook Air is a smaller version than the ones found on other Thunderbolt-equipped Macs so far. With other machines, Apple has been using a controller code-named Light Ridge that supports four bidirectional Thunderbolt channels and two DisplayPort outputs. However, the 11.6-inch and 13.3-inch models of the Air support a controller code-named Eagle Ridge, that drop it down to two bidirectional channels and one DisplayPort output.
Why the disparity? The Eagle Ridge chip's designed for machines without discrete graphics, which includes the new Airs. In the move to Intel's Sandy Bridge chipset, the Airs dropped the dedicated NVIDIA GeForce 320M GPU in favor of Intel's HD Graphics 3000 processor, which is assembled right into the CPU. That means the Air can still support an external screen, but not two as Apple's 15- and 17-inch MacBook Pro models are able to do, hence requiring only one DisplayPort output.