This is the smallest, cheapest, and very first fuel cell car kit powered by salt water! This is a great way to learn new forms of clean energy. Build this car from 20 parts, it measures about 3 inches.
Mechanism: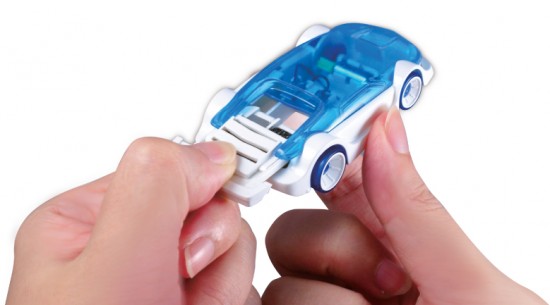 A fuel cell is an electrochemical cell that converts energy from a fuel into electrical energy. Fuel cells can operate continuously as long as the necessary reactant and oxidant flows are maintained. In this cell, magnesium is the anode, the porous carbon sheet (air) is the cathode, and saltwater is the electrolyte. This is known as an air-depolarizing type of battery.
The saltwater slowly dissolves the magnesium sheet to produce hydrogen ions that migrate to the carbon cathode, thus creating an electrical current.
Power: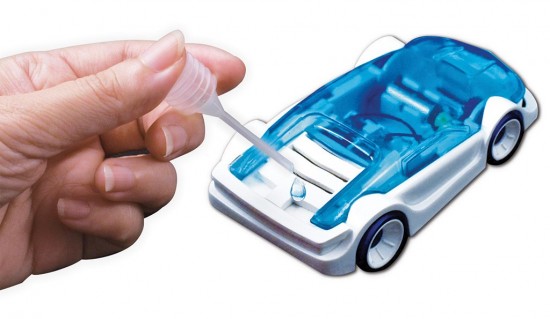 The car didn't exactly steer itself straight, but the thing's powered by salt water! You could build a track similar to slot cars to keep them in a line, and then you could race your friends to see whose car has the better mix.
Apparently, any percentage ratio between 20% and 99% salt water is workable
Utilization of Natural Resources:
This environmentally and kid-friendly concept reflects the new, cleaner ways we think about automobile production and demonstrates first hand to children a more effective utilization of our natural resources.