Report: Verizon iPhone, iPad 2 Attracting Developers Away From Android
A considerable growth has been seen in the popularity of Android devices over the last year or so among both users and developers, but the Verizon iPhone and iPad 2 may be bringing iOS back to the forefront of their attention, as per a new report from Flurry Analytics.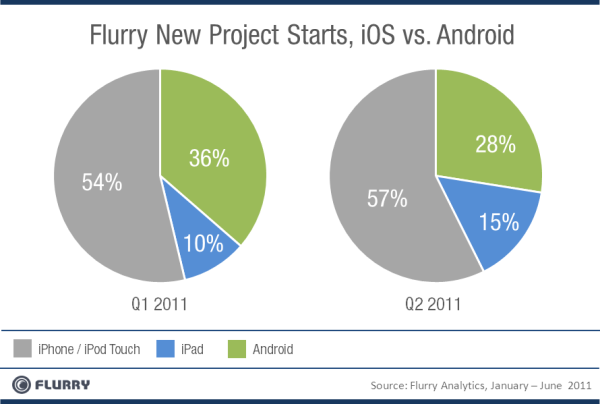 90,000 applications that make use of Flurry's SDK were looked at by the mobile analytics firm to see where the new projects are taking place, and found that developer attention to Android has declined notably over first and second quarters of 2011, despite its steady growth in 2010.
According to Flurry, Android apps were created by developers in increasing numbers all throughout 2010, with Android peaking at 39 percent of new projects in the fourth quarter of the year. That number slightly decreased in the first quarter of 2011 to 36 percent, whereas, 10 percent of developers started new projects especially for iPad and 54 percent focused on the iPhone/iPod touch combo. And now that the second quarter numbers are in, things have further fell in iOS's direction: 28 percent of new developer projects were targeted at Android, while 15 percent were targeted at iPad and 57 percent at iPhone/iPod touch.