Yet Another SLR Mount For iPhone
All those longing to use a US$3,000 camera lens with their iPhone 4s are in fortune. Photojojo has launched the iPhone SLR Mount, an easier way to mount Canon EOS or a Nikon SLR lens to your iPhone 4.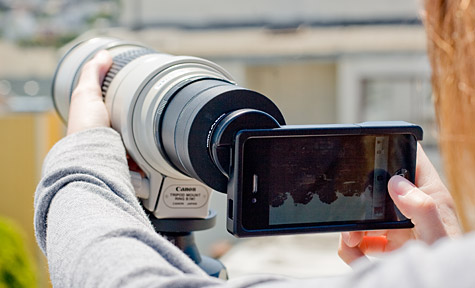 A fit on the mount holds lens in place, and loops on either end. It sounds crazy, but in real it's not. A large number of people take photos with iPhones everyday. Recent data suggests that iPhone submissions have dominated pool of photos since long. It's only rational to offer a pseudo-pro option for a camera that people shoot with often.
Of course, this isn't the first SLR iPhone camera rig we've come across. iPhone DSLR looked promising late last year, but fell victim to design and cost problems. However,  Photojojo has got a lot of cheaper, more size-compatible add-on lenses for your iPhone.