Solution To iPhones Lack Of Connectivity For Data Transfers
Probably one of the frequent complaints about iPhone is the lack of connectivity for data transfers and printing as there are no USB port(s), Ethernet and media card slots.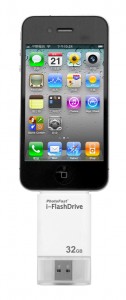 You can't use pocket USB flash drives. Undeniably, a survey of 3,000 iPad/ iPhone owners found that number one on their missing feature request list was a real USB port, followed by Flash support.
Our solution to this problem is PhotoFast's new i-FlashDrive. Although, it can't help with the iOS's lack of Adobe Flash video support, it does provide a suitable workaround for at least some aspects of the no USB port issue. It claims to be the only two-way storage device out in the market for making file transfers between iOS and Mac/PC. Moreover, it's a compact flash memory drive with a USB port on one end and an Apple 30-pin iDevice connector on the other. There are presently three versions of i-FlashDrive available namely 8GB, 16GB and 32GB.