iPhone And Android Have Stunned The BlackBerry
It's no shocker that RIM has recently had to slash its guidance and cut down its workforce.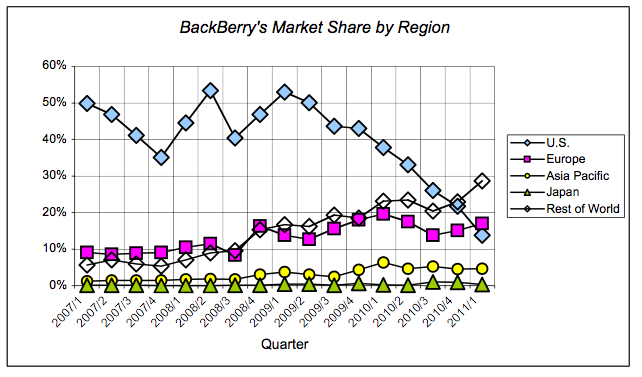 On Friday, the analysts were all over Research in Motion after the company issued sharply lower guidance for 2012 and warned of approaching layoffs.
Most believed that Apple's iPhone and Google's Android marginalized the BlackBerry. But none of them was as blunt as Needham's Charlie Wolf, who titled his message to clients "RIMM: What do you do when your one trick no longer works?"
One key paragraph is stated as follows:
Watching BlackBerry's share in the U.S. smartphone market beginning to crumble, Research in Motion made the strategic decision in 2009 to attempt to offset U.S. share losses through growth in international markets. BlackBerry's loss of share in the U.S. initially reflected Verizon's decision to switch its "halo" brand status from BlackBerry to Android. Verizon had promoted BlackBerry as an alternative to the iPhone, relying on a steady barrage of buy-one, get-one- free (BOGO) promotions to bolster BlackBerry sales. But the strategy backfired because there was no mistaking a BlackBerry for an iPhone. In the fourth quarter of 2009, Verizon hitched its wagon to Android, reportedly spending over $100 million to build the Verizon Droid brand. Verizon continued to offer BlackBerry BOGOs. But no longer in the spotlight, BlackBerry's share at Verizon began to recede.