The Most Anticipated New Features of Mac OS X Lion
Ever since the new operating system has been unveiled by Apple on Monday, OS X Lion, tech bloggers have been selecting through the system's 250+ features for their favorites. Here we've compiled the ones that are getting the best reviews.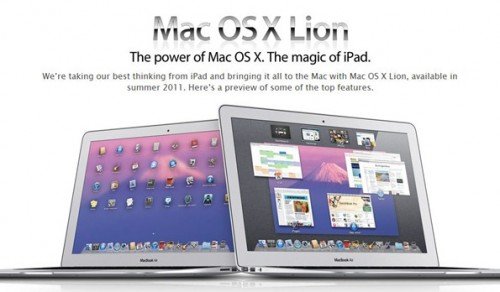 AirDrop "By selecting a new AirDrop menu option, users will be able to send documents by dragging and dropping the document onto the picture of other users who are running Lion's AirDrop nearby," explains Charles Hamilton at GigaOm.
Mail app "The new mail app looks a lot like the Mail app on the iPad," explains Business Insider. "There's a two-column view with your inbox on the left and message preview on the right. It also has a conversations view, which shows you e-mails in the order you received them."
Mission Control This feature "combines Exposé, full screen apps, Dashboard and Spaces into one unified experience for a bird's eye view of every app and window running on your Mac," writes Apple Insider.
Multi-Touch Gestures "New gestures include momentum scrolling, tapping or pinching your fingers to zoom in on a web page or image, and swiping left or right to turn a page or switch between full screen apps. All Mac notebooks ship with Multi-Touch trackpads and desktop Macs can use Apple's Magic Trackpad" writes Apple insider.