World's First 450Mbps Router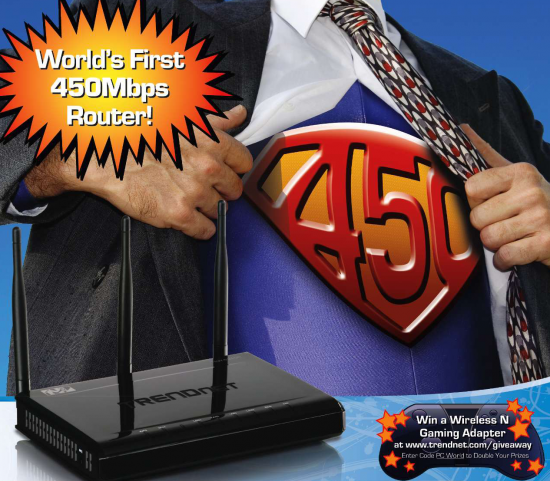 TRENDnet Expands its Award Winning Wireless N set with the High Performance 450Mbps Wireless N Gigabit Router. TRENDnet, a best-in-class wired and wireless networking hardware brand, today announces the launch of the 450Mbps Wireless N Gigabit Router, model TEW-691GR.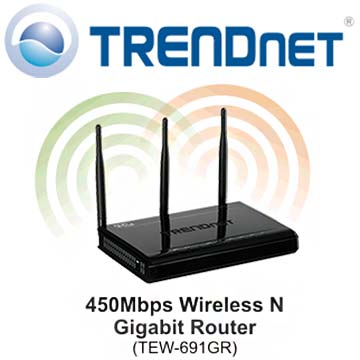 Designed for extreme performance and unparalleled quality of service, this router provides users with the ultimate wireless networking experience.Three external antennas broadcast on the 2.4GHz spectrum.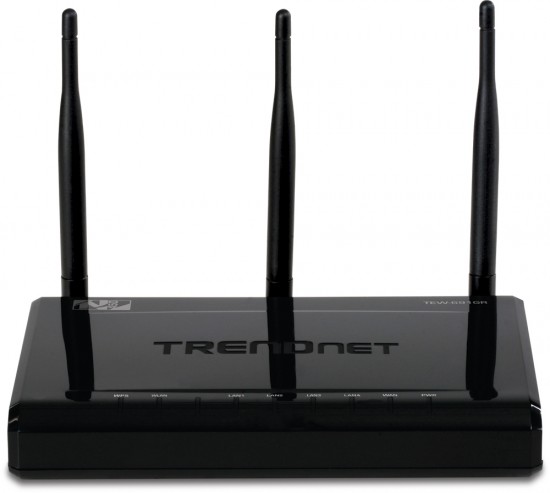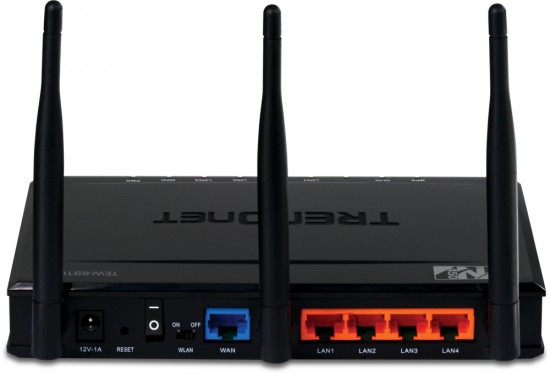 Three spatial streams per antenna produce a record 450Mbps theoretical wireless throughput. Multiple Input Multiple Output (MIMO) technology boosts wireless coverage, signal strength, and throughput speed. One Gigabit Wide Area Network port and four Gigabit Local Area Network ports offer exceptional wired throughput performance.
This router's raw horsepower seamlessly streams HD movies to your entertainment center, transfers content from countless users, and generates record wireless coverage. Gigabit Wide Area Network and Local Area Network ports transfer wired data fast.



An Energy Star certified power adapter and embedded GREENnet technology reduce power consumption.
Advanced Multiple Input Multiple Output (MIMO) antenna technology with three spatial streams per antenna generates a maximum theoretical wireless throughput of 450 Mbps.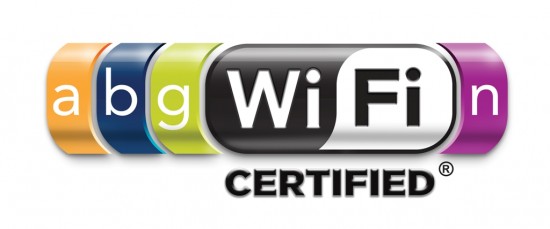 Wi-Fi Protected Setup (WPS) integrates other WPS supported wireless adapters at the touch of a button. The latest in wireless encryption and a secure firewall protect your digital network.
WMM Quality of Service (QoS) technology prioritizes gaming, Internet calls, and video streams. LEDs on the front of the router convey device status.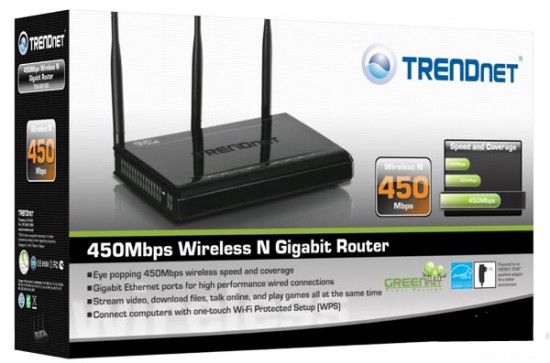 Details
• High-speed data rates of up to 450 Mbps using an IEEE 802.11n connection
• Stream video, download files, talk online, and play games all at the same time
• Connect computers with one-touch Wi-Fi Protected Setup (WPS)
• 4 x 10/100/1000 Mbps Auto-MDIX LAN ports, 1 x 10/100/1000 Mbps WAN port (Internet)
• Universal Plug and Play (UPnP) for auto discovery and support for device configuration of Internet applications like RTP/RTSP, SIP, FTP, TFTP, NTP, and SMTP