Science Gone Wrong- Powered Rocket Fails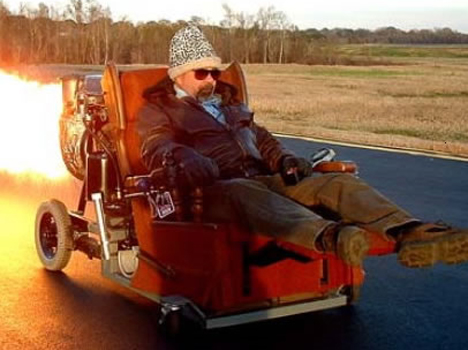 Strap yourself in and enjoy the ride because this episode' all about speed! Isaac Newton showed that every action causes an equal and opposite reaction' but little did he know that 300 years later Joe Geniuses would be turbo-charging minivans with jet turbines and lawnmowers with rocket engines!
It's Turbo Time!
Meet the Backyard Turbo Scientists!
"Fire extinguisher sled" from Damo
"William and the 577 T.Rex" from Webmaster Accurate Reloading
"Spinning chair with blower" from Velocityff
"Van with gas turbine helicopter engine" from Chris Krug
"Jetbike" from Turboseb77
"Wheelie Wagon" from Colby Williams
"Motorized Lazyboy" from Reuben Brewer
"Rocket Skateboard" from Lunapapier
"Mobile motorized lawn chair" from David Hays
"Barstool Wreck" from Joe Lanich
"Home made hovercraft" from Kent Curtis