Top 7 Technology Trends That Ruled 2009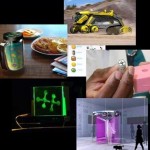 The aughts saw an explosion of new technologies that few could predict at the beginning of the last decade, but in looking at the big picture, we didn't want to ignore some more recent—and crucial-—developments that happened just this year. Here are the top seven tech trends from 2009.
NETBOOKS
Tiny, low-priced, low-power PCs were the tech product story of the year. However, these high-selling devices are a mixed blessing for PC makers and consumers. While hardware manufacturers are thrilled to have a hit on their hands, the computers generally have razor-thin profit margins. Meanwhile, consumers who buy netbooks get cheap, super light computers that frequently run old operating systems (like Windows XP), lack optical drives and are far slower than they'd otherwise expect on a desktop or full-sized notebook.
Phones that Navigate
Starting in 2009, GPS companies became scared of the mobile phone. This year, the iPhone became capable of handling turn-by-turn auto navigation programs such as the $100 app offered by TomTom. Even more remarkable: Google released free turn-by-turn navigation software for Android phones—a development that caused TomTom and Garmin stocks to nosedive overnight. The fact that phones can easily update their maps and POI databases over the Internet doesn't help the matter for GPS companies. While it's too early to declare the stand-alone automotive GPS systems obsolete, the burden is on traditional GPS-makers to find new ways of staying relevant.
Use your ← → (arrow) keys to browse