Next-Generation touch UI for Mobiles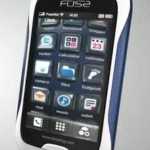 Synaptics, a mobile manufacturer has ganged up with a few other companies to create the Synaptics Fuse concept full -touch phone. The concept tries to take phone interfaces to the next level by combining a touchscreen with other technologies to improve one hand usability and reduce the need to look at the screen.
The multi-touch screen is a given, but Synaptics have gone the extra mile and have covered the whole phone with a variety of sensors. Force and capacitive sensors on the sides of the Synaptics Fuse sense the users grip and control panning and scrolling.
The force sensors enable another gesture as well – squeezing the phone. The back of the phone is touch sensitive as well and can be used for 2D navigation. Proximity sensor is  another sense of the Synaptics Fuse .The Synaptics Fuse concept phone uses 3D graphics and "next generation" haptics to interact with the user's senses.here is a small video on this new phone:-