Robotic MasterChef: Have a Fresh Breakfast Cooked by a Robot Everyday!!!!!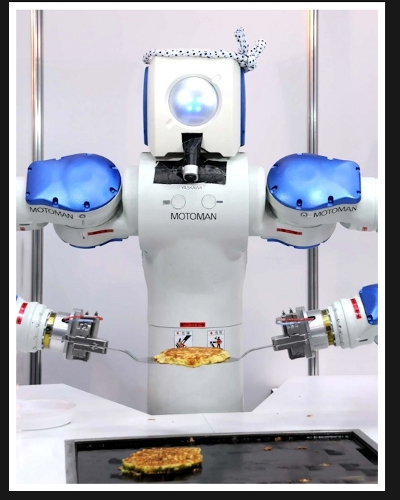 Have you ever wished to have breakfast ready when  you wake up?? Your wish is fulfilled. Engineers have finally come up with masterchef robot called Okonomiyaki Robot. During the "Robot Food Park" demonstration, Okonomiyaki Robot, developed by Osaka-based Toyo Riki Co., boasted its prowess in cooking "okonomiyaki" — Osaka's trademark meat, vegetable and seafood pancake.
The robot, about the size of a human, skillfully uses its two arms to mix the dough, oil up a pan and flip the okonomiyaki when the time is right.
It can even communicate verbally, asking the audience questions such as whether they want mayonnaise on their okonomiyaki.
Cnt believe it??? See the video
Another example is the breakfast making machine developed by some student engineers for their lab. The completed machine assembled a breakfast of an omelette, toast with jam, coffee and orange juice that was served all day to visitors of the Platform21 show in Amsterdam.
Here's a rundown of the machine (not in English, but eggs and toast are pretty universal):