Stimulating Sight: Artifical Eye Could Help Restore Vision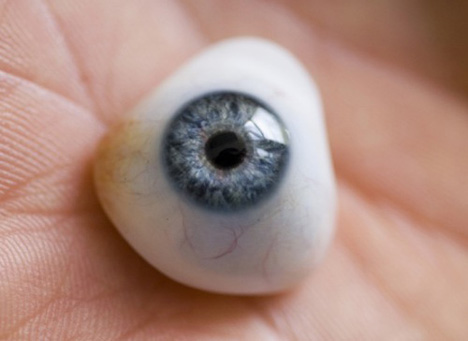 ScienceDaily (2009-09-24) — MIT engineers have designed a retinal implant for people who have lost their vision from retinitis pigmentosa or age-related macular degeneration, two of the leading causes of blindness. The retinal prosthesis would help restore some vision by electrically stimulating the nerve cells that normally carry visual input from the retina to the brain.
Patients who received the implant would wear a pair of glasses with a camera that sends images to a microchip attached to the eyeball. The glasses also contain a coil that wirelessly transmits power to receiving coils surrounding the eyeball.
When the microchip receives visual information, it activates electrodes that stimulate nerve cells in the areas of the retina corresponding to the features of the visual scene. The electrodes directly activate optical nerves that carry signals to the brain, bypassing the damaged layers of retina.
If you have time see this video lecture. Luke Theogarajan of MIT discusses the two leading approaches to retinal prosthesis, a novel bio-ionic neural interface and one that is electrically based, and the hope it holds for researchers and patients alike.