JailBreak iPhone 4 in Two Easy Steps
There is nothing more cooler than a jailbroken iPhone. The much awaited jailbreak for iPhone 4 is finally here. We have tested it and works with no problems.
The iPhone Dev Team has released a legal hack for the Apple iPhone 4. The JailbreakMe tool can be accessed through the iPhone's Safari web browser, and enables users to download and install a variety of software and programs on their handset that have not been officially approved by Apple.
If you want to Jailbreak, at your own risk, follow the steps below
Step 1:
On your iPhone 4, open http://jailbreakme.com
You will see the menu below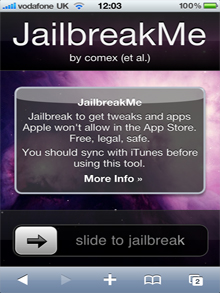 Step 2:
Slide to jailbreak this will add Cydia
IMPORTANT: if you do not see the loading bar after you slide to jailbreak refresh the page and try again. This works on All Devices Up To 4.0.1
JAIL BREAK IPHONE 4