No .5 & 4 A Tie!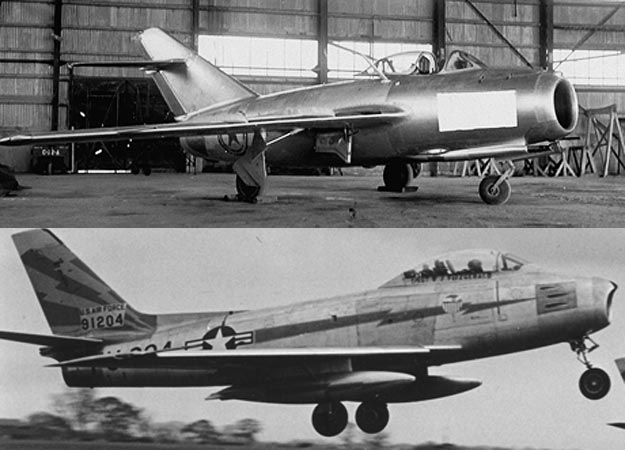 MiG 15
Manufacturer: Mikoyan Gurevich Design Bureau
Power Plant: Klimov VK-1 turbojet
Top Speed: 668 mph
Armament: One 37mm N-37 cannon and two 23mm NR-23 cannon
AND
F-86 Sabre
Manufacturer: North American
Power Plant: General Electric J47 engine
Top Speed: 685 mph
Armament: Six .50-caliber machine guns and eight 5-inch rockets
Compared to today's fighters both these jets are underpowered and primitive but few aircraft have done so well at the job they were designed to do. Both the F-86 Sabre and MiG 15 were the right aircraft at the right time and each richly deserve a prominent place in aviation history.
Both designs relied heavily on captured German swept-wing technology and British engine design, so for innovation the MiG and Sabre are equally matched. Both fighters were produced in large numbers, but the MiG edges in front of the Sabre in the production category because of its renowned simplicity. Both jets have similar service records. The result? They are inseparable in the rankings: the MiG 15 and F-86 Sabre tie for fourth place.